Arithmagicians Goes Live!
We're pleased to announce that  "Arithmagicians" , the online mathematics learning platform to help KS2 students develop their mental maths fluency, is now live in schools across the UK! Created by Ebrahim Tafti, the web-based ed-tech game challenges students to enhance their mental maths skills by racing against the clock to beat their personal best, answering challenging questions and helping prepare them for the KS2 Arithmetic Paper by improving their mental maths fluency.
At its beginning, Arithmagicians started out as a paper-based game for use in classrooms as a way of helping students to improve on their mental maths fluency, however there was potential to make the game more engaging and enjoyable for students by increasing the entertainment value of the challenges via a web based version.
When The Curve was selected as technical delivery partners for Arithmagicians and Ebrahim, we had no doubts that the platform would be a success with the great potential in the concept. This has been reflected in Arithmagicians first month of being live, by mid February we have seen over 90,000 games completed by almost 400 students in 9 schools!
The image to the right shows the different levels that students can achieve by completing challenges and improving their mathematics skills and reducing the time it takes them to solve complex questions.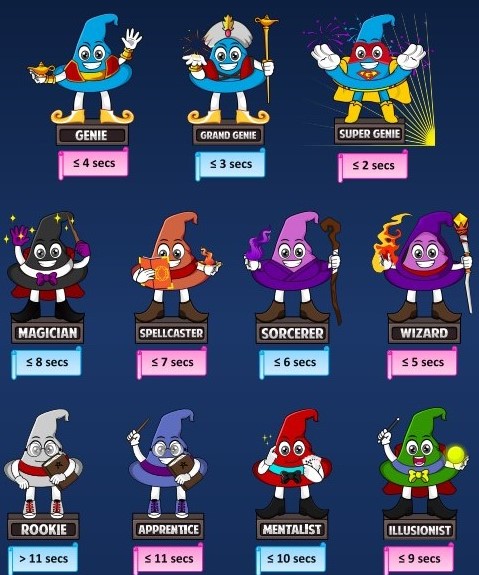 Learn more on the Arithmagicians website here and if you represent a school you can sign up to help your students improve their mental arithmetic skills. Parents can also enquire about individual or family memberships.
Ebrahim had this to say - "We're delighted that the Arithmagicians website is now live and is in use in classrooms all around the country, supporting students to improve their mental mathematics skills in preparation for SATs and future learning. The Curve have been extremely supportive throughout the process of setting the website live and have done a fantastic job ensuring all of the functionality is in place and is ready for both teachers and students. They were able to take everything that they have learnt from previous projects and apply it to Arithmagicians. I would definitely recommend The Curve to anyone looking to start an Ed-Tech business."
Paul Ridgway, CEO of The Curve added "The Arithmagicians project has been a pleasure to work on over the last few months. The feedback from students, staff and Ebrahim has been so positive and uplifting, and it's great to launch another product that meets all the expectations and aspirations from the outset. Being a part of projects that have such a positive impact on the education system is always incredibly gratifying in addition to the technical satisfaction that comes from successfully realising these gamified experiences, and "Arithmagicians" is no different. We look forward to continuing to develop the website, adding unique features to make it even more enjoyable for students across the country."