Arithmagicians
Ebrahim Tafti set out to develop a new fun, game based learning experience, and what started out as a paper based idea, soon became "Arithmagicians". The game based learning website challenges students to enhance their mental maths skills by racing against the clock to answer challenging maths questions, and improving their status from "Rookie" all the way to "Super Genie". The "Tech for Good" online mathematics platform helps to improve pupils' skills, confidence and ability in arithmetic skills.

The Problem
At its beginning, Arithmagicians started out as a paper-based game for use in classrooms as a way of helping students to improve on their mental maths fluency, however there was potential to make the game more engaging and enjoyable for students by increasing the entertainment value of the challenges via a web based version.
The key challenge in this project was developing a web-based version of the game in which schools all over the country could access and use to help their students develop their arithmetic skills, whilst still enjoying themselves as they do.
This project also highlighted various features that would also be key to the gamification of the Arithmagicians concept, one of these features would be the ability of students to earn and collect coins and badges on the platform after completing challenges and improving their ranks. Key considerations for this project included developing a portal in which teachers and students could log into their accounts whilst only accessing the areas relevant to them.
The Solution
The Curve worked with Ebrahim to build a website that would enable students to practice and learn mental mathematics skills in preparation for SATs and future learning, whilst still ensuring that students enjoyed themselves as they did so.
A variety of technologies were used to build the Arithmagicians product, including Ruby on Rails for the core web application and React for the more interactive elements like the games and user log-in section.
This was one of the key areas of the website as it was important to ensure that students could access areas designed for them such as the challenges, customisation options and leaderboards, they wouldn't be able to access the teacher portal which contained information such as answers, learning material and other information.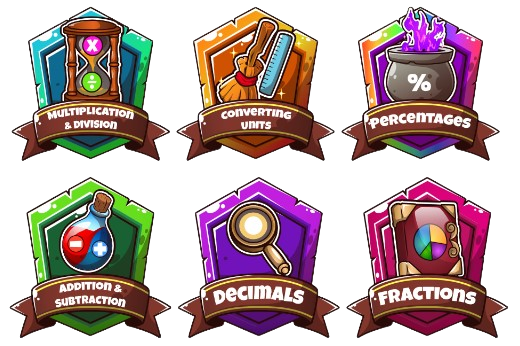 The image above shows the different areas and skills that students can learn and practice by completing challenges and completing the games.
Their Thoughts
"We're delighted that the Arithmagicians website is now live and is in use in classrooms all around the country, supporting students to improve their mental mathematics skills in preparation for SATs and future learning. The Curve have been extremely supportive throughout the process of setting the website live and have done a fantastic job ensuring all of the functionality is in place and is ready for both teachers and students. They were able to take everything that they have learnt from previous projects and apply it to Arithmagicians. I would definitely recommend The Curve to anyone looking to start an Ed-Tech business."