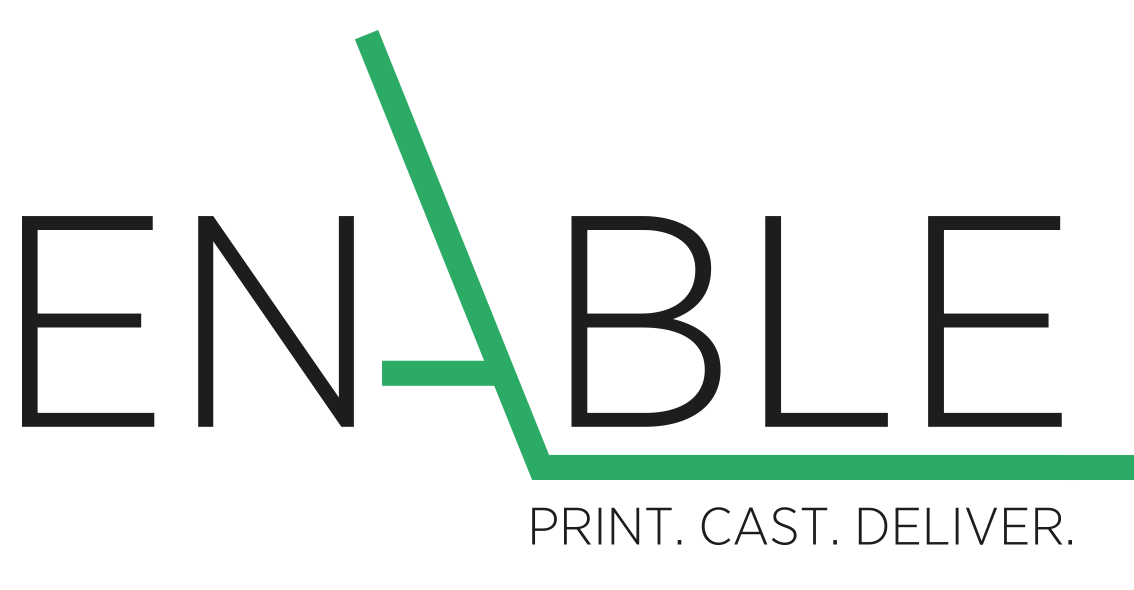 Enable Manufacturing
Enable is a UK business with the vision to bring a new, innovative manufacturing process to life. This patented process is called Additive Casting® and uses 3D printing.
In this process, Enable specialise in additive manufacturing of moulds for nearly any metal casting to produce high quality metal production parts without the limitations of traditional tooling. The outcome is that more complex parts can be manufactured from first prototype to large annual production volume.
The supply chain for the additive casting process is complex with a lot of suppliers providing pattern printing, foundry services through to the shop for manual processing and delivery.  
There was no off-the-shelf software solution available on the market that would meet Enable's needs to configure a custom supply chain for every customer order, so their team came to us to work on a custom software solution together. 
Enable Manufacturing knew they had to build a complete and more detailed picture of the business requirements for a supply chain management system to support the additive casting process…and they needed The Curve's help to do just that.
'Over the next nine months, we conceived, developed, and delivered a unique programme that has digitised the Enable supply chain and will help them to achieve their growth targets.' 
James Ridgway, CTO and Co-Founder at The Curve.
The vision was to create maximum transparency and better communication and coordination throughout the supply chain.
Following the collaborative discovery workshop, Enable Manufacturing engaged The Curve to build and implement a solution to digitalise the supply chain process to produce metal parts using Additive Casting®.
A deliverable from the discovery workshop was a requirements document that was fed into a market assessment of commercially available products, their fitness for purpose, whether or not customisation is required and to what extent, in order to produce a viable service specification. It was determined there were no off-the-shelf products identified which could be used to tackle the complexity and lengthy timescales of the current process.
Enable teamed up with The Curve to develop a custom software solution called EnableChain®. EnableChain tracks & traces jobs from order to invoice, making it possible to deliver metal parts made with Additive Casting within 4 weeks.  What makes this software very special is that each order can be configured with a dedicated supply chain, like a Lego block concept, as orders are usually unique supply chains are put together based on the material requirements, part size and required add-ons such as machining. The nature of Additive Casting® is to enable on demand metal part manufacturing, and this means most orders will have a small to medium volume and will often require unusual material, which will result in custom supply chain configurations for every order.
Enable's vision was to create maximum transparency and better communication and coordination throughout the supply chain. Clients can now monitor the status of their order with a simple click and can also choose to be notified about the progress of their order. Suppliers will receive proactive notifications about the parts' progress, for instance letting them know if a part will arrive on time from a previous supplier in the chain. Suppliers can even integrate with EnableChain via API for an even more efficient process. All these features are helping to manufacture the parts very efficiently, even in highly complex supply chains with multiple players.
'We believe that by combining our Additive Casting® service with our new EnableChain tracking software, we have now set a solid foundation to bring on-demand digital manufacturing to the metal parts market and we are excited to now be offering an improved customer and supplier experience across the Enable network.' – Anja Stolte, Head of Marketing at Enable