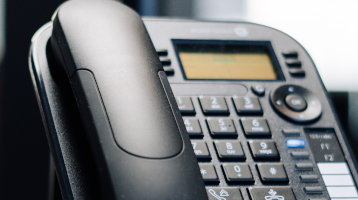 Why we didn't need to change our phone system for remote working
When COVID struck and everyone went into lock down, a lot of businesses had to change how they worked to adjust to a new life of working from home. At The Curve we were fortunate that little changed in the transition to home working.
For a lot of businesses there are one or more critical dependencies on the office. Maybe it's because you have a lot of paper based processes that are difficult to distribute without technology, or your team needs to be able to answer the phones.
For us, at The Curve, we still needed to be able to answer our phones. Fortunately, when we moved into our office, we thought carefully about what we should buy, what we could outsource and what we could do differently. Where phones, phone lines or phone systems were concerned we opted to do something a little bit different.
We didn't need to change our systems
Our team is agile, even in a pre-pandemic world, there is no guarantee that the person you need will be in the office when you call us. We decided we didn't want a phone line, or a PBX, or any of that traditional stuff you'd think about when setting up a phone system for a business.
Instead, we built an automation to deal with our phone enquiries. When you phone our office, the call is handled by Twilio (a cloud based communication service). Twilio integrated with our AWS cloud, and using serverless technology, we'll start a phone conversation with the customer.
Our phone system will play a pre-recorded greeting message while we connect the customer with the right staff member. In the background our AWS cloud phones the relevant staff member needed for the enquiry and connects them with the inbound call.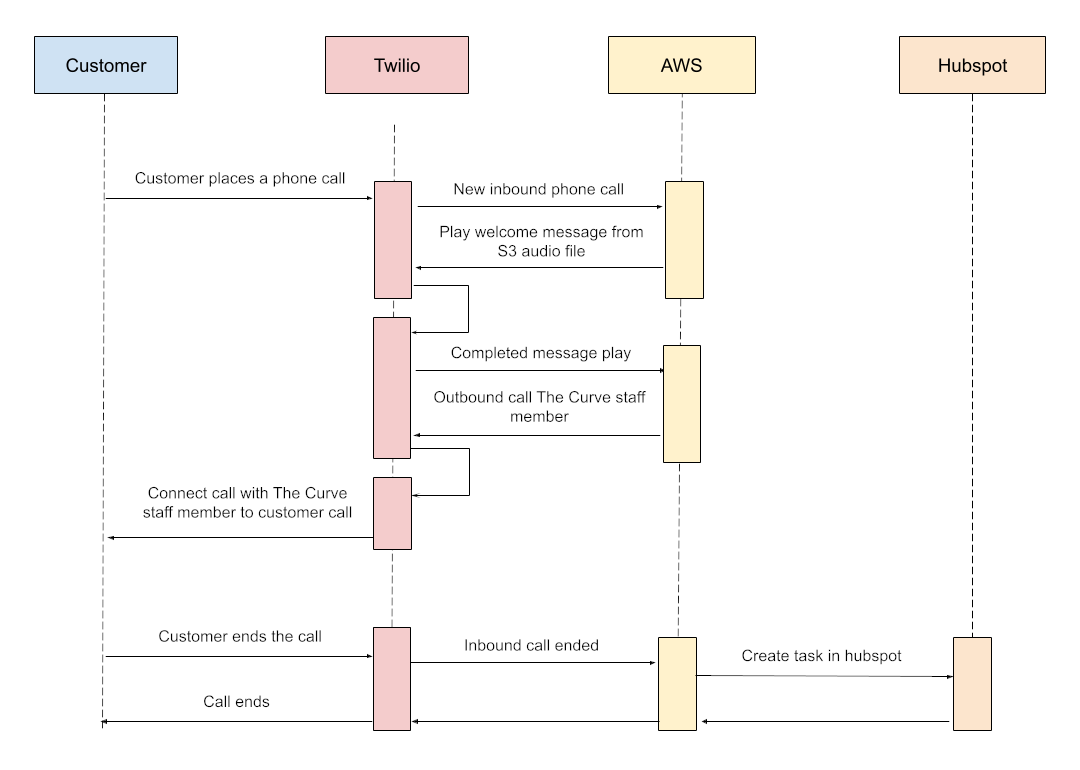 Our team can answer a phone call from anywhere. They don't need to be in the office. Once the call has completed, our system automatically logs a task in Hubspot to ensure that a team member follows up and completes any necessary actions.
And if for whatever reason we are not available to answer your call, we'll still log the enquiry in Hubspot so that our team can follow up as soon as possible.
A lot is happening here, we're connecting our customers to the right people in our team, and we're integrating all of this automatically with our CRM. When we built this over a year ago it did not take long to get up and running and it's worked flawlessly since.
The automation with Hubspot has also eliminated any unnecessary admin tasks and ensures we follow up on every enquiry. As we've built this on cloud based technology, we're only paying for what we use, and this solution costs us practically nothing compared to the traditional and significant outlay for phone line rental, PBXs, IP handsets, etc…
When COVID struck, we were fortunate that our processes and ways of working didn't need to change. This was no doubt helped by the fact we already had members of the team working from home on a part time basis.
This freed us up to focus on helping our customers deal with the pandemic.
Helping our customers work remotely with business process automation
We'd just released a financial planning platform for a local wealth management business just before lock down that has allowed them to digitally transform their business going entirely paperless and significantly reducing their dependence on the office, as well as providing numerous efficiency gains too. The system couldn't have been introduced at a better time, it has allowed their business to move forwards despite the pandemic with information flowing between the various teams seamlessly.
Another of our clients — Crystal Clean Service, a local cleaning company — has been doubling down on their move to being entirely paperless, with a web-based cleaning platform that we've built for them. Over the last year, we've been incorporating a few of their remaining business processes into the system which has now removed their dependency on processes that were split across many difficult to master spreadsheets.
The team at Crystal Clean also uses Twilio. They use the cloud communications service as part of the cleaning platform we have built for them. The cleaners are able to dial into Twilio using a phone call to log when they arrive and leave a client site, so that the work can be billed for. The process takes seconds, and details of the completed work flows straight into the system for the operations and finance teams to view.
Our headline for this post is how we didn't have to change our phone system to deal with the pandemic. The key takeaway from this is that for our clients who have thrown themselves into technology and automation of their business processes, they have been able to leverage the same benefits that we have.