Fitwins
The
Fitwins App
challenges and motivates people to increase their physical exercise by encouraging and rewarding those who take part and complete their challenges with medals. Fitwins rewards and praises those who compete in monthly challenges with medals as a way of keeping motivation levels high and ensuring that people get the recognition they deserve when they have completed their exercise and challenges.
The Problem
The Fitwins team engaged with The Curve to complete a discovery workshop alongside key Fitwins stakeholders to define and prioritise a list of requirements and features to be implemented within the app. The aim was to bring key features that would help grow the user base as well as the feature list of the application. Some of the recommendations that came from this Discovery workshop included implementing a "refer a friend" system to help the app gain popularity and traction through a relatively simple yet effective system, as well as implementing Telematics into the app in order to allow better accessibility and compatibility with already well used apps and devices such as Garmin, FitBit, Apple and Strava.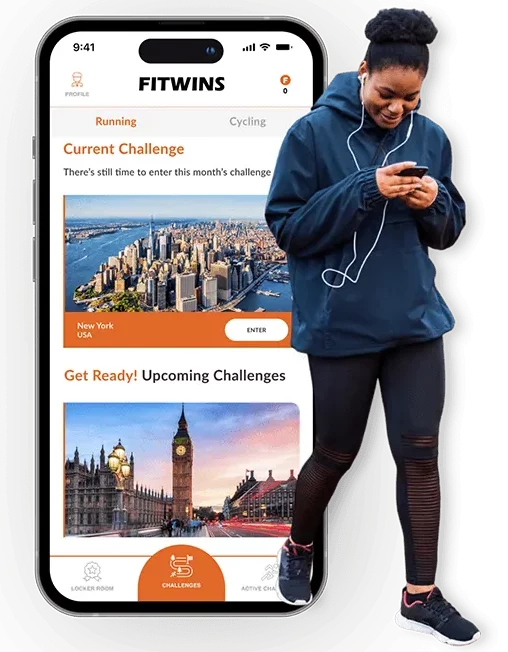 Perhaps one of the key problems the Fitwins team was facing revolved around how easily they could manage and upload content to the app. To do this the Fitwins team were highly dependent on app developers and coders uploading content such as challenges on their behalf which caused issues due to the level of inefficiency this created.
The Solution
So what was the solution for these issues? During the Discovery workshop the teams concluded that one of the biggest requirements was to implement a self service portal. This would allow the Fitwins team to access, upload and manage all the application content themselves without the need for input or support from developers. Moving forwards, The Curve and Fitwins will be working closely to continuously develop the app and bring new levels of functionality and features. Providing a higher level of automation whilst also bringing an improved customer experience to those using the app and its features.
Their Thoughts
"Since we began working with The Curve, we've been impressed with both their attention to detail and their efforts to collaboratively drive creative and innovative features to deliver the most enjoyable experience possible. The discovery sessions provided a great opportunity to evaluate the user experience and enhance our development strategy going forwards. As a company that prides itself on helping people to become more active, the sessions really helped us to identify features that can help us to continue building an active community of runners, cyclists and walkers. We are thrilled that we can continue to work with the team at The Curve for the long term future and look forward to implementing new and exciting changes and functionality to the Fitwins App".